A couple of weekends ago, I braved it on a train over to Lewes on the South Coast, to visit the most stunning eco barn. Having had so much cancelled this year due to Covid, it felt like such a treat to be going away on a minibreak. And in a time of terrible uncertainty it was wonderful to just switch off and 'be' for 48 hours, focusing instead on on the incredible place I was staying and the people I was with.
A short taxi ride from town led me up and up a country lane to the modern conversion, where I was absolutely astonished by the sheer beauty of South Downs National Park, which unfolded in front of me like a giant wave of golden corn. Although I'd known the property was in South Downs National Park, I hadn't been prepared for how utterly sensational the setting is.
Better still, it emerged I had the same view from my bed! Both mornings it was such a treat to sit with a cup of tea and just idle and gaze.
With 3 bedrooms (2 doubles, 1 twin/double) and masses of space, the Granary Barn is perfect for a family or friends getaway (although there's no way I'd bring toddlers; the jammy-hands potential is just too scary). I went with some girlfriends and it was a total treat to hole up somewhere so immaculate yet so comfortable, with huge views through the wall of windows, enormous sofas to loll on and chat for hours, and glorious walks from the front door.
Owner Anni has renovated and decorated the place to an incredibly high standard; every tiny detail has been considered. There are luxe touches throughout — underfloor heating, gorgeous Dip & Doze bedlinens, duette blinds, A.S. Apothecary toiletries and an Everhot Aga were things I now need in my own home! Then there are the really thoughtful details: a generous welcome hamper with Beacon Down fizz, plus delicious local cheese, olive oil and sourdough. Posies of flowers from Anni's garden. A bean-to-cup coffee machine, full of delicious Backyard Café beans. Even cosy blankets to wrap up in on the alfresco terrace — everything has been thought of.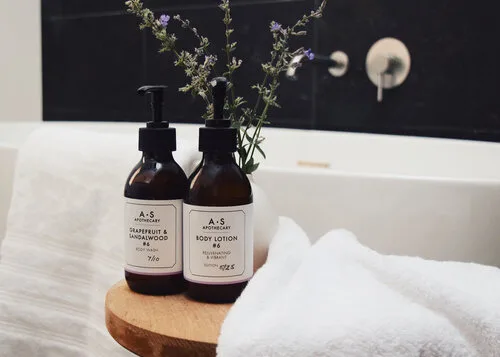 But most impressive of all? The total commitment to sustainability, right down to these gorgeous Weaver Green rugs, made from recycled plastic bottles.
I loved chatting to Anni about how it all began:
Q. What's the history of the space?
A. The barn was built around the 1960s. It was a large concrete floored, breeze-block walled structure, which had sat empty for 18 years, used just once a year during the corn harvest. I'd approached the farmer to buy some of his land to plant trees and create a wild meadow, and the old grain store came as part of the purchase!
Q. Did you immediately convert it?
A. No, not for a few years. We originally used it for storage actually, and had some great children's parties here. But I'd always had a dream to create a place and space in which people could relax and recharge after days spent walking on the Downs, or visiting the coast and local towns in East Sussex. It slowly became clear I'd already found it.
Q. What were your design principles?
A. We had 3 guiding principles: everything had to be simple, beautiful and functional.
We kept the original concrete beams and used natural products wherever possible in the conversion, collaborating with local craftsmen and artisans throughout.
Q. What about the focus on sustainability?
A. Yes, the eco ethos was at the forefront, too. It was very important to me that our business would have minimal effect on the environment. We clad the barn in cedar to help with insulation, installed a solar thermal roof and air-source heat pump, and there's a charging point for electric cars. Products throughout are eco friendly, and we sourced most furnishings locally.
Q. Which local shops did you buy from?
A. Many of the decorative elements are from shops in Lewes. The beautiful basalt utensils holders and bread knives are from Freight, a fabulous homewares shop; the ceramics are from The Laurels, and we bought the bamboo hangers and sofa throw from Flint on the High Street. If we bought products from further away, they had to be UK suppliers. We sourced the beautiful rustic bedsteads from Yorkshire-based company Indigo Furniture; a little nod to where I'm from.
Q. And which bits of furniture are your favourite?
A. The super-comfortable sofa and love seat by Maker & Sons, with the colour-pop cushions from Molly Mahon.
Q. What's unexpected about the space?
A. That the entire downstairs including one double bedroom are accessible to people who use a wheelchair, enabling them to be very comfortable here, and to have easy access to the South Downs Way. We deliberately designed it to be so.
Q. And finally, what are people always surprised by when they stay?
A. As you said, the wonderful view and the attention to detail! Pictures and maps don't do our location justice. We are so lucky to be actually in the South Downs National Park.
Read my full review here.