Venture into the extraordinary, with a stay in one of these incredible hideaways. All immersed in nature, there's everything from a beautiful showman's wagon in an apple orchard to treehouses hidden amongst Scottish pine trees, where red squirrels peek in through the windows. If it's adventure you're after, we've got you.
See all our quirky nature escapes.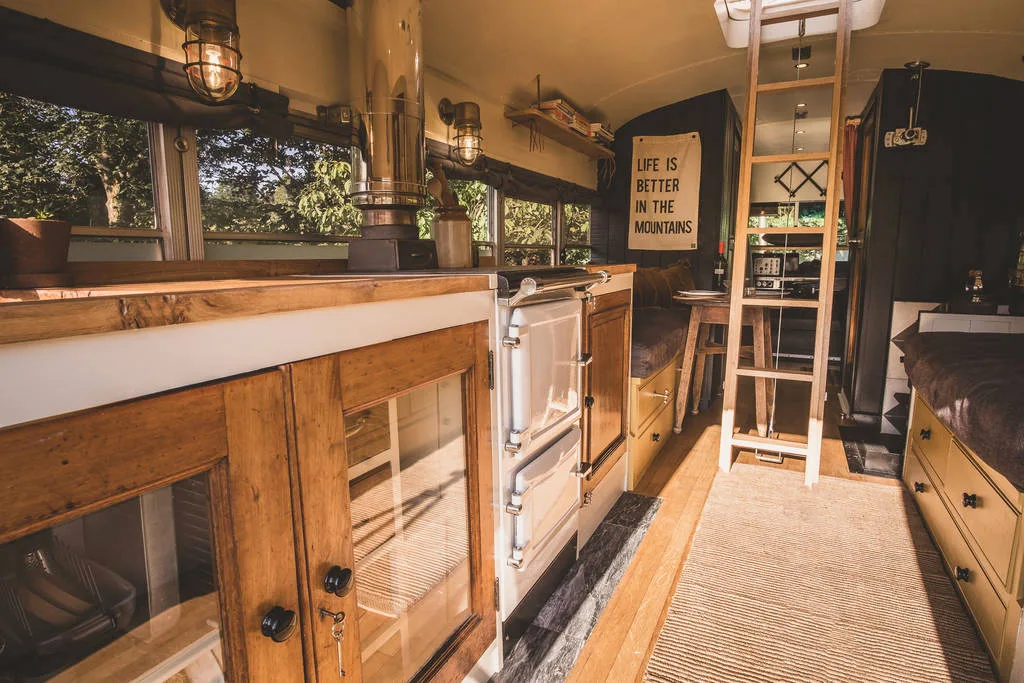 Completely off-grid yet surprisingly luxurious, this converted American school bus sits in gorgeous wild settings all over the Lake District. It changes location every 28 days to preserve the air of adventure and mystery, but wherever it's parked you're guaranteed breathtaking views, beautiful interiors and a hot tub under the stars.
---
This quirky, geodesic dome hides amongst trees and springy green moss on a staggeringly beautiful organic farm in Ireland. Leisurely forest walks lead to a lake for wild swims or spin off on your bikes to explore the magnificent coastal road and join the lush car-free Connemara Greenway trail, which stretches from the farm to Galway. Unforgettable.
---
Staying in this beautifully unique wagon is almost a time-travelling experience, taking you back to the 1920s and a circus showman's life. Along with big views across the apple orchard to the Black Mountains beyond, you'll find utter peace but for birdsong. Watch goldfinches on the feeder outside the cosy bedchamber and spy woodpeckers through the windows of the cedarwood bathroom. A gloriously romantic adventure.
---
This beautiful, boutique houseboat floats serenely on a lake in a North Devon wildlife reserve. It's totally secluded so incredibly romantic, and on top of laid-back luxe interiors onboard, you also get a bankside bathhouse where you can sink into a William Holland rolltop bath. Fishing for rainbow trout is encouraged (there's a BBQ to grill your catch), and there are 20 acres of woodland, wildflowers and wildlife to explore. Perfect for a honeymoon.

---
---