Holidays as a dog owner aren't always a walk in the park — though if they were, my dog would be pretty chuffed. Finding a reliable dog sitter can prove difficult, and taking our beloved furry friend along with us isn't always the most relaxing… in our case he's a 7-month-old cocker spaniel, Rudi, with a penchant for stealing socks and a knack for escaping from almost anywhere. Hardly a recipe for a relaxed staycation.
Enter Ludlow Hideaway — a characterful little cottage for 2 set on a beautiful farm on the border of Shropshire, Herefordshire and Worcestershire. As dog owners themselves, owners Stephen & Steven welcome your canine counterparts with open arms — and they've thought of everything to make your stay as easy as possible. The cottage has its own little garden out front, with a fence to deter any curious hounds from wandering away or getting lost. There's a handy outdoor tap for rinsing off muddy paws, and dog towels provided to dry them off again. You'll also find dog bowls, treats and a stair-gate so your pooch can't get into the bedroom to wake you up with those lovely face licks. Phew. Best of all, there are 9 acres of beautifully wild meadows and peaceful woodland to wander and explore. Even better than a walk in the park.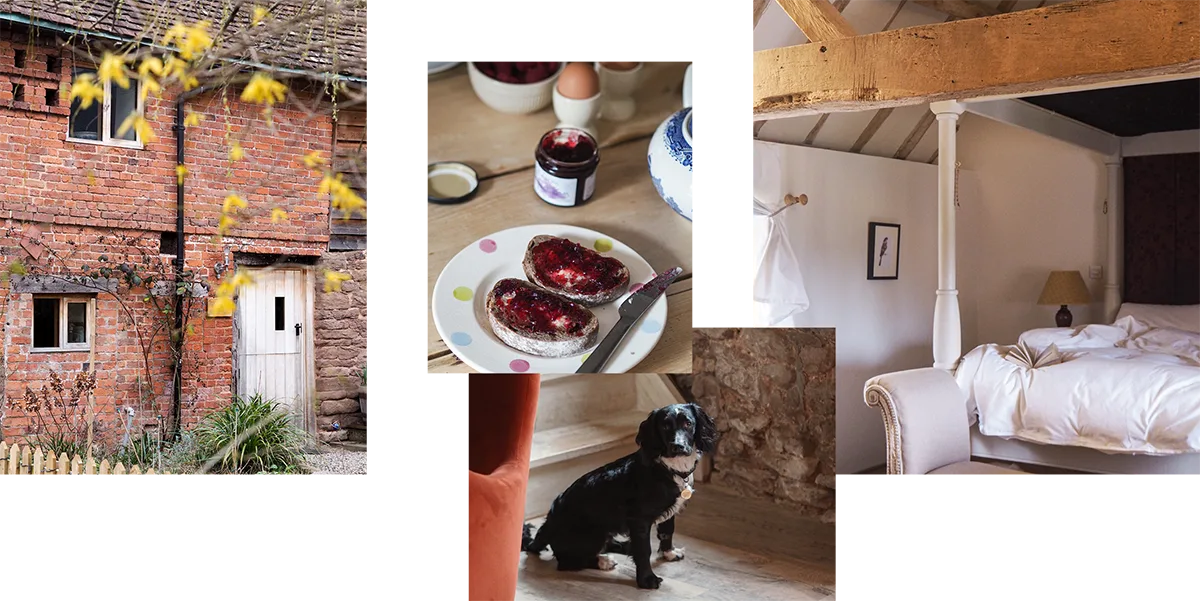 Of course it's not just dogs that will feel totally at home here. We humans loved it too. The cottage is super comfortable, with a cosy logburner in the kitchen, big squashy sofas, a huge bedroom upstairs with a four-poster bed, and a roll-top bathtub in the ensuite. If we didn't have a four-legged friend to entertain we might well have just stayed put… Armed with an extensive list of local recommendations though, we knew there was plenty to explore.
After a deep sleep in the quiet of the countryside we took our time over a breakfast of very local blackcurrant jam on toast — owner Stephen holds several prizes for his preserves, all available to buy from their little honesty shop — before setting out to our first destination, Mortimer Forest.
With a car park just on the edge of Ludlow — and breathtaking views over Ludlow Castle along the way — this thousand-hectare forest is a playground for dogs and humans alike. Walking trails range from an easy-going 1 miler to a whopping 9-mile trek, taking you deep into the trees for what feels like a proper adventure into the wild. We opted for somewhere in the middle — though if it weren't for the promise of coffee and cake I might've been tempted to spend all day weaving down the mossy paths, with sunlight filtering beautifully through the trees and utter — almost eerie — peace and quiet.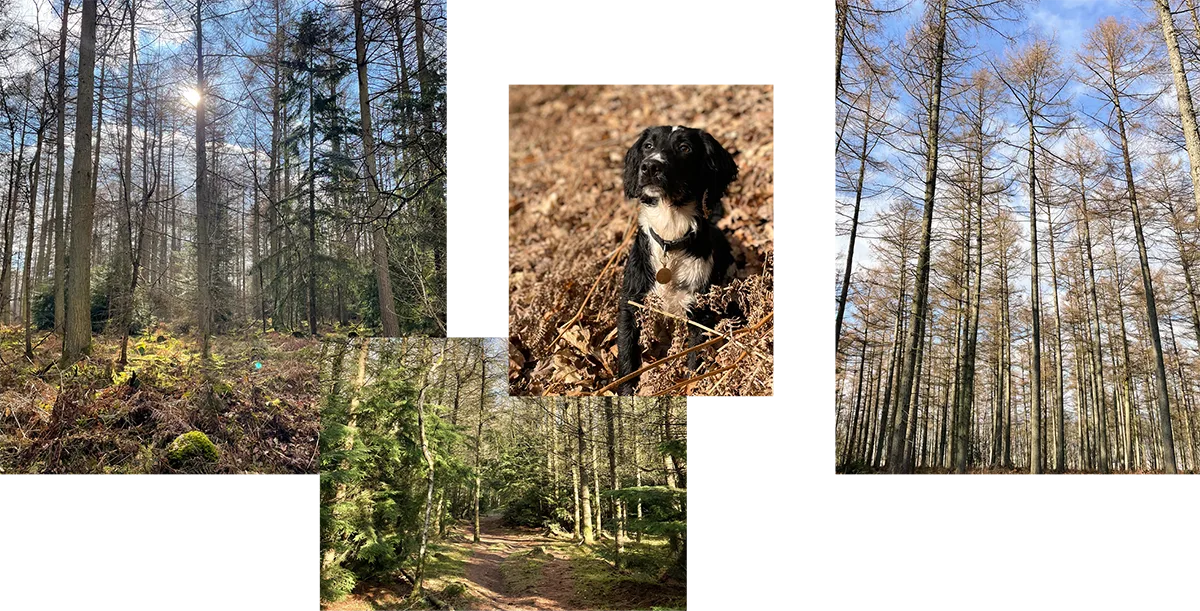 Needless to say, coffee and cake won, and we caught the last of the sun from the terrace at the lovely CSONS Green Café, overlooking the River Teme and a shingle river beach. Being a water-loving spaniel Rudi was naturally thrilled that the fun wasn't over, and made a beeline straight for the river — whilst we did the same in the direction of a deliciously fudgy brownie and carrot cake.
After drying off a soggy dog — now slightly regretting his life choices — we headed into Ludlow town for a wander. A thriving medieval market town with some amazing architecture, the higgledy-piggledy streets and red-brick buildings were bathed in a pink glow as the sun was setting. We popped into a few antique and vintage shops on Corve Street whilst passing– they welcomed dogs too! I particularly enjoyed The Period House Shop, a bit of a warren packed full of vintage and industrial treasures to rummage through. Turns out window shopping builds up quite a thirst and so our final stop was the Blue Boar, an 18thC pub with a roaring logburner and super-friendly bar staff who were quick to bring over a dog treat. Happy humans, happy hound.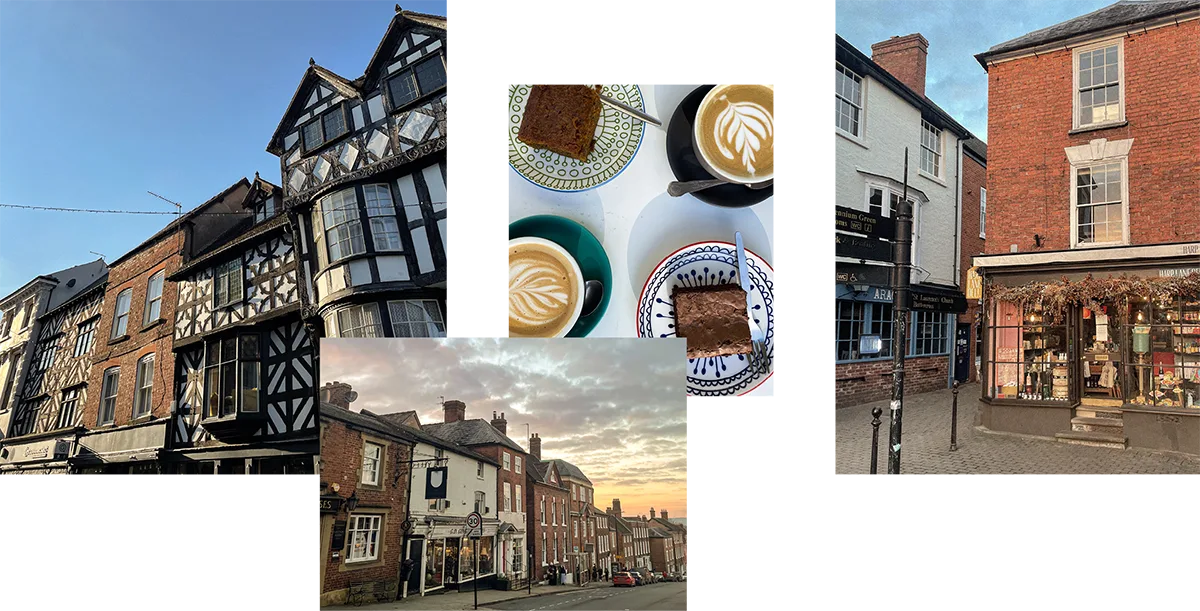 Pre-dog ownership we'd have sampled one of Ludlow's restaurants — it's an increasingly foodie destination — but alas, not this time. After the adventures of the day though we were happy to head back and hibernate, safe in the knowledge that a comfy cottage awaited us and Rudi would be flat-out for a peaceful evening. Our first dog-friendly holiday — a success all round!