One of the joys of staying at a Kip Hideaway is discovering new corners of the UK; hunting out independent gems, lesser known beauty spots and the coolest foodie hangouts.
In our series of monthly Insider Guides we'll be picking the brains of hideaway owners in different regions to bring you all the best things to do, see, eat and drink — hopefully providing inspiration to holiday a little closer to home this year.
This month we're headed to Powys & Herefordshire — neighbouring counties that are home to the beautiful Wye Valley, the famously bookish town of Hay-on-Wye, and endless incredible eateries that all celebrate the wonderful produce of the region.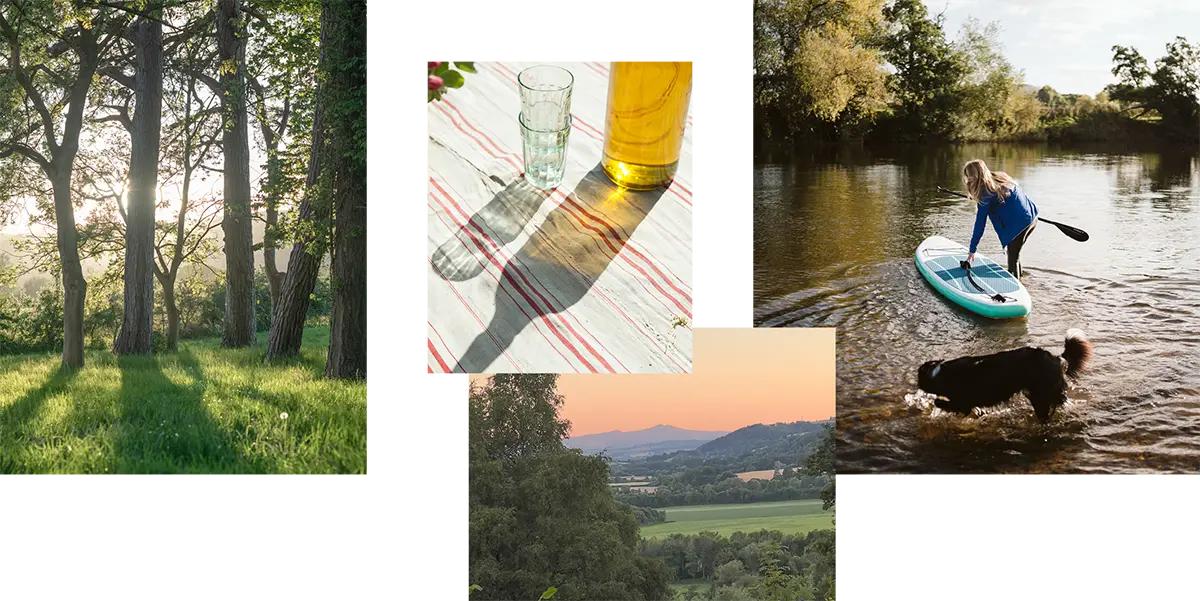 EAT
The Thursday & Sunday Markets at Hay-on-Wye are a must for foodie delights. Our owners highly recommend Primrose Market Garden stall for the most amazing salad leaves grown up the road, edible flowers and sometimes the tastiest bags of stir fry greens. There's also a grower in the Butter Market that sells his own veg from his plot and makes incredible jars of Kimchi, and Alex Gooch Artisan Baker is another favourite.
Daphne's, Presteigne Watch the world go by as you soak up the atmosphere at this independent eatery and enjoy a slice of sourdough pizza alongside an organic glass of wine. With friendly hosts, a relaxed and informal vibe and locally sourced ingredients, this is a popular spot so we'd recommend booking in advance.
The Riverside at Aymestry – winner of the Great British Pub Awards 'Best Sustainable Pub 2022' and 'Herefordshire's Best Restaurant 2021', this is a consistently great place to eat, with excellent food and a beautiful rural location on the River Lugg.
Penson's For a special occasion (or a real foodie treat…), there's Pensons – based on the beautiful Netherwood Estate – with a Michelin Star and Michelin Green Star (for its focus on sustainable approach) and a menu of incredible inventive and seasonal modern British dishes. The setting is beautiful – you dine in an old Herefordshire red brick barn that overlooks a tree-laden courtyard. You can take a wonder around their kitchen garden and they also have a cute shop selling items local craftspeople have made for them.
The Bridge Eatery at Whitney Bridge is a top pick for coffee and cake, a light lunch, or a delicious three course evening meal. The water here is lovely, and many people take a dip as part of their visit!
Seeds is a really small restaurant in the front room of a timber-framed cottage Llanfyllin, with just 16 seats. Run by a husband and wife team, everything is locally sourced and the wine list is excellent. No website, so call ahead to book on 01691 648604.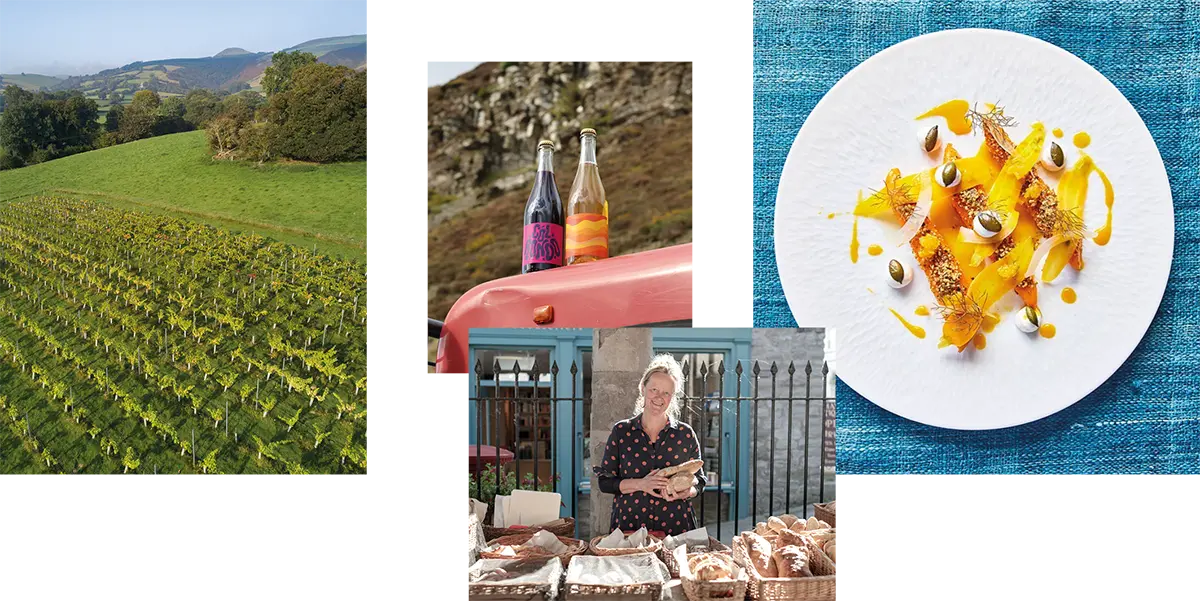 Kin Kitchen, Ludlow Run by the owners of Herefordshire Log Cabin, The Kin serves delicious freshly cooked meals and carefully selected drinks including much from Herefordshire and Shropshire – some ingredients even come from the greenhouses and raised beds they have as part of their beautiful town centre garden.
The Harp, Old Radnor A beautifully restored traditional Welsh longhouse serving excellent seasonal British food and winner of 'Best Country Pub of The Year.' The views across the valley are stunning – booking in advance is required for dining.
The Workhouse Gallery & Cafe, Presteigne. A family business that started in the late 70's and has evolved over the years as different family members have added their stamp to it. What started as a carpet repair business has evolved into a carpet design studio, carpet showroom, cafe, gallery and shop that includes many items designed and made on site. Oh, and great coffee too!
The Bull's Head Inn, Craswall 'One of the last unspoiled drover's inns in England' serving seasonal dishes with meat sourced from their regenerative farm. Easily combined with a trip to Hay-on-Wye and a drive up Hay Bluff for some incredible views across the Wye Valley.
Shepherd's Ice Cream Parlour in Hay-on-Wye is a must, great coffee and sandwiches made with locally baked bread and fillings. Their sheep's milk artisan ice cream changes with the seasons and is delicious!
DRINK
Herefordshire produces some of the best cider and perry, so it'd be rude not to sample! And if you're really into this local tipple you can also learn all about the cider-making process with a tour of Weston cider mill– or at Newton Court, a smaller craft cider producer.
The Live and Let Live pub on Bringsty Common is a 16th Century cider house and the only thatched pub in Herefordshire. It's totally hidden from the road – you wouldn't know it was there. A good spot for a pub lunch, combined with a mooch round Bringsty Vintage Living.
Lydia and Tom at Artistraw make the most amazing cider and Perry from their Orchard near Clifford. They are often at local markets in Hay and Kington – and the labels are beautiful too.
One of our hideaways – Winemaker's Cottage, Powys – is also home to a natural, low intervention vineyard, where you can pick up bottles of their red and naturally lightly sparkling wines.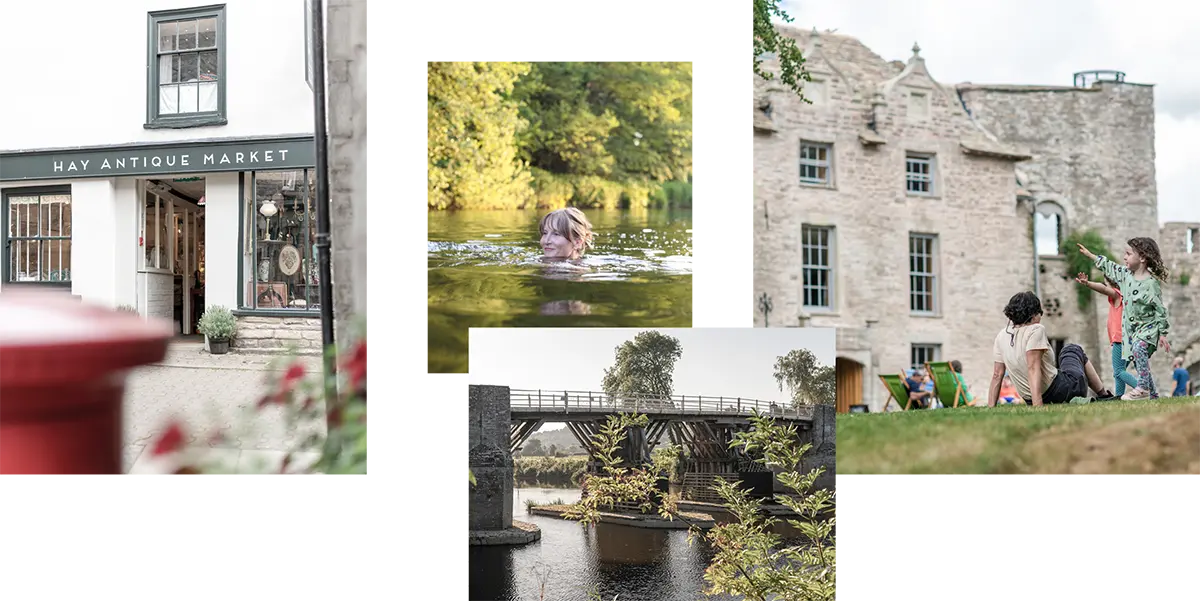 DO
Hay-on-Wye has so much to offer. The recently restored Hay Castle is a must-visit, with fantastic tours to give you a flavour of its epic history, and a fabulous café and restaurant too, and this is also the starting point for canoe & kayak trips down the River Wye. Not to mention home to countless book shops and cool independents that'll mean you can easily spend a day pottering around town.
Beyond Hay, though, there are so many amazing natural beauty spots to visit, and epic landscapes to explore — whether that's by foot, bicycle, or taking the plunge with a cold water swim…
Walking:
Offa's Dyke is a 177 mile walking trail, passing through the Brecon Beacons National Park on the spectacular Hatterrall Ridge and linking no less than three Areas of Outstanding Natural Beauty – the Wye Valley, the Shropshire Hills and the Clwydian Range / Dee Valley.
Milton Hill (near Brilley) is a short climb for incredible views of the Radnor Hills and over the the Black Mountains, with Wales on one side and England the other. Also very good for tobogganing in the snow! There are never many people there and it's an easier uphill alternative to the views you get from Hergest Ridge and Offa's Dyke.
If you do venture up Hergest Ridge be sure to check out Hergest Croft Gardens – truly magical, especially when the rhododendrons are out.
Water Break it's Neck is a stunning waterfall in New Radnor, the Elan Valley is a stunning area to visit to see the Victorian dams, and The Begwyns is a beautiful semi-wild upland area near Hay-on-Wye that is perfect for picnics at 'The Roundabout', a circular wall surrounded by trees and with a spectacular view.
Cycling:
Quiet roads, stunning scenery, charming historic villages, characterful pubs, we've got it all. The Black and White trail is a famous tour of half-timbered villages such as Pembridge, Weobley, Dilwyn, Eardisland and Eardisley.
Wild swimming:
There are plenty of places to take an invigorating dip in the River Wye. In Hay-on-Wye there's a pebbled beach for cooling off after a day of exploring the town. Just off Wentes Meadow on the edge of Presteigne is the River Lugg, seek out the secret beach just along the whithy beds board walk. At Discoed, you'll find the The River Lugg Park just off the B4356 (don't block any access or you may find an irate farmer moving your car). Find the footpath sign pointing north and follow your nose to the river in the next field. At Leintwardine, The River Teme Park before the bridge and follow the footpath to Brockley Meadow – there are many stunning spots up river. Wolfs Leap in the Irfon valley is totally unspoilt and there are big, deep pools to jump in to. Or, for ease, stay at Kingfisher Cottage, and you can swim directly from the garden!
STAY
There are so many truly special options for your holiday to Herefordshire and Powys — from a secret treehouse to luxe cabins, secluded cottages to a converted bus — you'll be spoilt for choice. Search all Powys hideaways here, and all Herefordshire hideaways here. Happy holidays!