Our Kip Kiosk is dedicated to showcasing independent artisans from across the UK and shining a light on our abundance of homegrown talent. Here we celebrate 3 makers whose hand-crafted items are made using time-honoured (plus some ultra-modern) skills. Meet the faces behind the hands.
Alex Pole – The Forge Kitchenware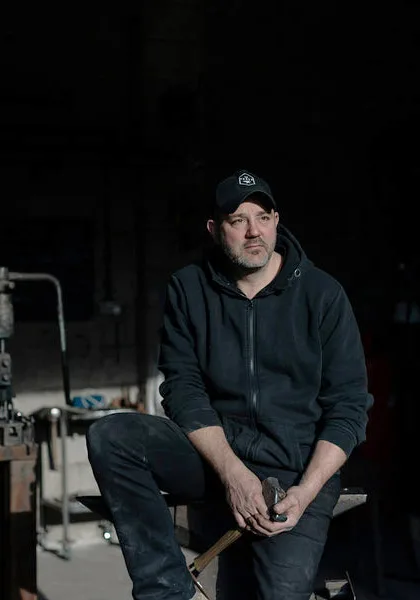 KIP: What is the most rewarding thing about what you do?
AP: Seeing new designs come to life and then move into production. Even after over 30 years of making and designing I still get a huge thrill from trying new things and seeing the finished results. It is also hugely rewarding to see how my blacksmiths progress and advance with their skills.
What are your core brand values?
Integrity. Craftsmanship. Fairness. Team work
What is your favourite thing about working for yourself?'
I get to play whatever music I like in the workshop… that and the fact that every day is different.
What do you love doing when you're not working?
I spend much of my time off cooking . I am a real foodie and it's one of the most relaxing and enjoyable things to do, especially if cooking for friends. Other than that I play Real Tennis or just potter around the house with my family.
As a foodie, which local restaurants would you recommend for anyone staying in one of our Somerset hideaways?
HOLM in South Petherton (@holmsomerset) would be my top recommendation and we love our local pub, The Royal Oak in Over Stratton (@theroyaloakoverstratton).
What is your favourite item from the Kiosk (that you didn't make!)?
I love the print by Molesworth and Bird — and they are from the west country as well.
Which is your favourite Kip hideaway?
It sounds cheesy but I love them all! Although I have always wanted to go to Skye and Sunrise Cabin looks amazing.
---
Lydia Florence – Herbariums
KIP: Why did you start making herbariums?
LF: After studying Art & Design, I went on to work as a graphic designer in the film industry. This required a whole range of skills — some I had to learn on the job, including pressing flowers and creating antique-style herbarium pages. I loved this so much that I began creating my own with flowers and plants that I collected from my garden. I was encouraged by family and friends who wanted to buy some, so I decided to turn it into a business and it's grown from there.
What inspires you?
I was initially inspired by the herbarium of Emily Dickinson, created between 1839 and 1846. It can be accessed online through the Harvard Library and I hugely encourage you to take a look.
What is it like to work alone?
I'm lucky enough to have a studio in the garden and I enjoy working on my own but friends and family are always there for support and to talk through ideas. This was a huge help when planning for my wedding bouquet preservation service which I launched this month.
When do you like to work? Do you have a routine?
Flower pressing is mainly seasonal but there's a lot more work to do when there aren't many plants to press. It takes a while to hand-stain the paper that I mount the pressed specimens onto, so I try to do a huge batch every few months. I also tend to create a number of herbarium pages at a time; I lay out all of the pressed flowers that I want to use and try and arrange herbarium layouts with everything to hand. There's usually a big cup of tea to hand but always kept at a safe distance – I learnt the hard way!
What is your favourite item from the Kiosk?
I love the Bee Miniatures! A beautiful piece of unique artwork, cleverly upcycled from an object that might have otherwise been discarded. It's a great way to add some interest to a corner of a room or stairway.
Which is your favourite Kip hideaway?
Cotswolds Hideaway looks like the perfect place for a cosy weekend away. I can imagine enjoying breakfast in its walled garden on a sunny morning, and a glass of wine by the logburner in the evening. A beautifully decorated cottage that I hope to be able to stay at one day.
---
Keeley Traae – 3D printed vases
KIP: Tell us about your background and how it got you to this point?
KT: I studied at Staffordshire University, firstly a Ceramics BA, then an MA in Ceramic Design. After graduating I was taken on by Wedgwood as a junior shape designer and over the years developed into a design manager. In this role I had the opportunity to work with many external design partners such as Jasper Conran for Wedgwood and Barber and Osgerby for Royal Doulton which was fantastic.
In May 2020 I set up my own business, offering design services to clients. I also retrained on a 3D CAD programme and bought a 3D printer to play with during the lockdown. Soon realising that I could actually develop my own product collection using this technology I set about designing my first collection of 3D printed mini vases using PLA which is a bio plastic. Since then I have been selected to exhibit at galleries and fairs I had visited but never dreamed I would be represented in. I have been blown away by the response to my designs; it's been a wonderful first year.
So my new working week is split between 2 days teaching back at Staffordshire Uni, freelancing for clients, and designing and developing my own collections. Although I am using bio plastics in my current products I will return to ceramics one day.
What is the most rewarding thing about what you do?
Having designed for big brands for many years, it is very rewarding to be able to develop my own collections and explore my own aesthetics. I love to see my designs settle in their new homes too and hear my customers' happy comments. I find teaching very rewarding, too; helping to troubleshoot ceramic 'making' issues and guide the next generation of creatives is wonderful.
What do you love doing when you're not working?
I love to spend time with my family in North Wales. Big skies and vast beaches can't be beaten to blow away the cobwebs. We love to visit our local theatre; I love a good Scandi TV drama, and — of course — I have been watching the 'The Great Pottery Throw Down', which is filmed locally to us.
Is sustainability important to you in your work?
Sustainability is at the core of my business model, with my printing materials being made from renewable resources and all packaging being recyclable. I print in Polylactic Acid (PLA) or "Corn Plastic" which is a plant based, plastic-like material derived from renewable resources such as corn starch and sugar cane, which can be renewed annually. It is both biodegradable and compostable.
What is your favourite item from the Kiosk?
So here's a funny thing: as I was looking through all the beautiful products listed, I was drawn to the Pojagi cushion. It's such a gorgeous colour palette and embroidered technique. I didn't realise it was created by Niki Jones! Niki and I used to work together many moons ago at Wedgwood and it's wonderful to be listed together in Kip Kiosk all these years later.
Which is your favourite Kip hideaway?
This is such a difficult question as there are so many beautiful properties, but it has to be the Secret Cabin in Devon where you can find a couple of my mini vases!
---
Meet our other makers and shop their incredible homewares over at our Kiosk.