With open heathland studded by purple heather and sunshine gorse, and deep copses of twisty trees, the New Forest is one of our favourite UK escapes. But staying in the heart of it was a whole new experience; before, we'd only ever visited on day trips. This exquisite little hut hides in a private woodland a mile or so from Milford-on-Sea, and an easy cycle ride from the Forest's main walkways. Once you wander through its gateway, you're in a little world of your own: a tree-lined clearing skirting a stream, where pheasants strut about and birds sing all day.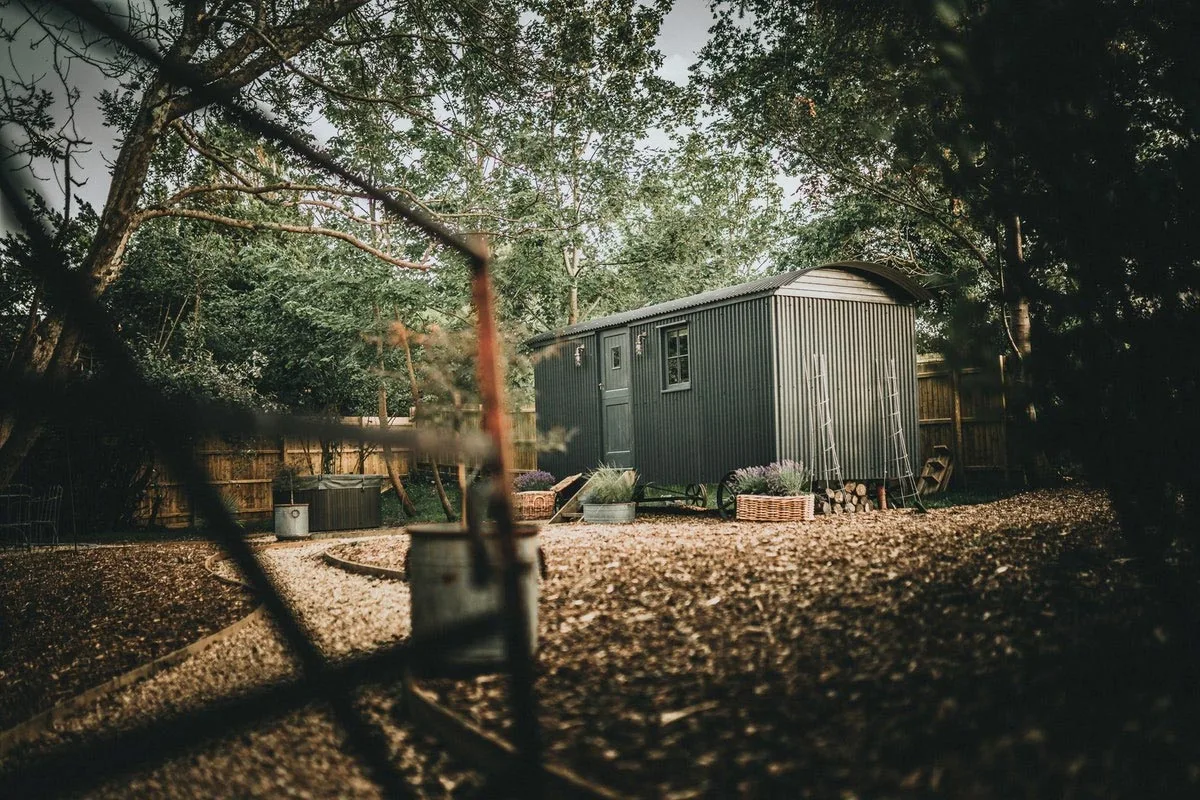 We spent such a gorgeous weekend here, admiring all of the endless detail that makes this hut so special. With midnight-blue pannelling, a corten-lined shower, fragrant Plum & Ashby toiletries, candles, bathrobes, even hot-water bottles, it was a constant surprise to remember we were in a shepherd's hut rather than a boutique hotel. We idled in the hot tub with morning cuppas, lazed in bed watching Netflix when the skies opened, and spent one day cycling through the National Park past wild ponies, and the other walking along the windy Solent admiring kitesurfers.
Because this place is all about the thoughtful extras, we ordered in almost all of our meals from their local foodie partners, making for such an easy self-catering weekend. A Friday night Penne di Mare with a seasonal tomato salad from Ray's; the biggest afternoon tea hamper of sandwiches, pastries and cakes. Added to the super generous welcome pack you get here (local treats plus sourdough bread and fresh eggs for breakfast, and excellent coffee), we basically ate all weekend — and sunk the delicious bottle of rosé under the stars.
Intrigued to know how it all came about? Here's our chat with the owner, Juliette.
---
Q. What's the back story of your hut?
We had built a couple of shepherd huts in the past, and when we moved to this area we had a perfect little wooded sanctuary of land sat next to a stream, which was crying out for a little retreat to be sat on.
What was your inspiration, design wise?
We wanted to create a cool-vibed hut that wasn't chintzy. And it to be luxurious, despite being small, with the type of 'no expense spared' attitude generally afforded to bigger, top-end properties. We made sure every detail was thought of.
What provides its soul?
All the completely unique elements we've brought together. My favourite bit is the reclaimed floorboards, which came out of Bath Abbey during a restoration project . We feel very privileged to have them as part of the fabric of the hut. When it came to furnishings, we visited Ardingly Antiques Fair to choose one-off pieces to place in the hut and garden. We also used a fabulous local reclamation yard.
What do you like most about being in the space?
It's a sanctuary; a complete switch off from life, yet also on the doorstep of the New Forest, with its woodland and coastal adventures waiting. There are Cruiser bikes and wellies to help our guests explore, or they can just stay put. The hot tub is always a welcome way to spend time and lose yourself.
What are people always surprised by when they stay?
The peace and tranquility. Many guests remark on how they've been able to switch off and find their reset button.
Do you have a top tip for guests when they stay?
Yes — take advantage of our hampers. We've teamed up with a couple of amazing local restaurants and food suppliers to offer the most delicious freshly prepared dinners, brunch boxes, picnic boxes, cheese and charcuterie boards, all delivered to your door. It really can make your New Forest escape effortless.
What's your favourite time of year to be here?
Autumn time is just magical; the forest colours are simply stunning and the joy of an autumn firepit takes a lot of beating.
What do you really recommend people do while they are here?
Cycle from Keyhaven to Lymington along the sea wall next to the old salt marshes, breathe in the Solent as you go, and reward yourself with a drink in The Gun on your way home… the perfect day!
---
Read our full review and get direct booking details here.