Description
• Each box contains 2 x 105g soap bars, wrapped in recyclable/ home compostable paper packaging • Contains organic coconut oil, pure essential oils, natural colours and botanics
Despatched in 3-5 working days
Delivery via Royal Mail 2nd class
Returns not accepted
Scents:
Grove – inspired by the scent of citrus groves. Made with Calendula petals & essential oils of Spanish orange & Calabrian bergamot.
Coast – inspired by rock samphire & seaweed. Made with hand dived organic kelp from the Cornish Seaweed Co & essential oils of fennel, juniper & tea tree.
Garden – smells like summer in a rose garden, with French rose clay, black poppy seeds & a floral blend of essential oils grounded with cedarwood.
Mountain – inspired by mountains in summer time, with lavender flowers & essential oils of sweet fennel & lavender.
Forest – inspired by long walks in deep woodland, with activated charcoal (sustainably sourced as a waste product from the food industry) & essential oils of cedar & pine, juniper & rosemary.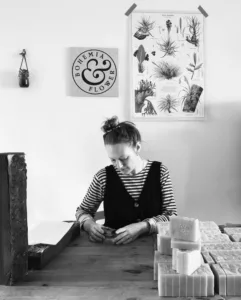 The maker
Based in Kent, Katy of Bohemia & Flower makes small-batch 100% natural bar soap. which is plant based and inspired by nature. Ingredients are vegan and botanical, with each batch made by hand using a traditional slow process.