Xanthe Gladstone is an organic grower, chef and seasonal food advocate based in the beautiful countryside of the Hawarden Estate, North Wales.
On a recent Winter trip to the beautiful Oak View Cabin in Powys, Xanthe created this recipe for a deliciously warming Apple & Berry Crumble, cooked in Falcon Enamelware – one of this month's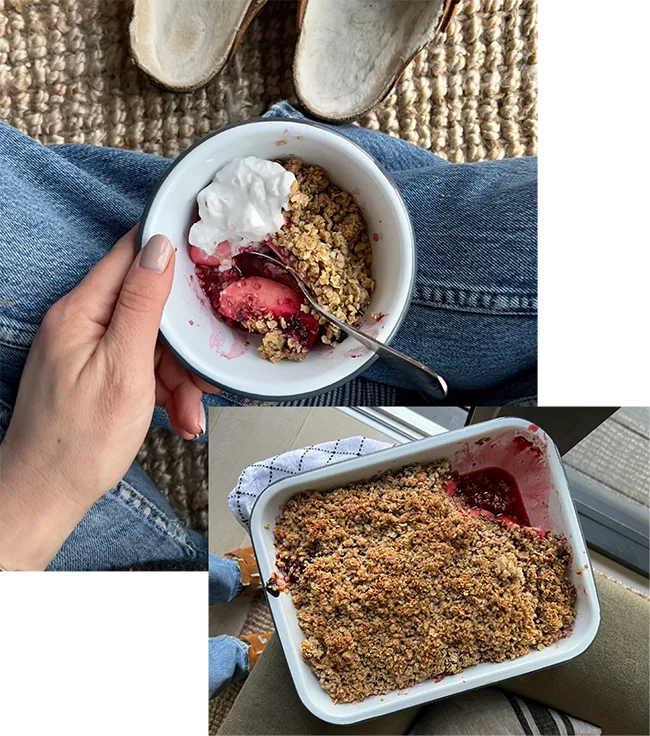 Serves 6-8
For the crumble:
300g porridge oats (or jumbo oats)
60g wholemeal flour
170g unsalted butter
40g caster sugar
1 tsp cinnamon
A pinch of sea salt
For the apples:
10-12 Braeburn apples
1 tsp cinnamon
For the berries:
1kg frozen mixed berries
4 tbsp caster sugar
---
Method:
Firstly, peel, core, and slice the apples into about six pieces per apple. Place the apple pieces in a bowl of cold water and a bit of lemon juice. This will stop them from discolouring.
Put the frozen berries into a saucepan on a low heat with the sugar. Cook the berries until they have defrosted and reduced a bit.
While the berries are cooking, make the crumble. Melt the butter and then mix all of the ingredients together. If you are using jumbo oats, you'll need to put them in a food processor until they are quite a fine consistency.
Preheat the oven to 170 degrees celsius and then assemble the crumble. To assemble, firstly drain and pat dry your apple slices and sprinkle the cinnamon on top. Line the baking tray that you're baking your crumble with the apple pieces, followed by the berry mixture, and then spoon the crumble on top generously. Bake until golden on top and serve with yoghurt or creme fraiche!
---
Member Perk
Get 20% off all Falconware Enamel products until 30th March 2023.